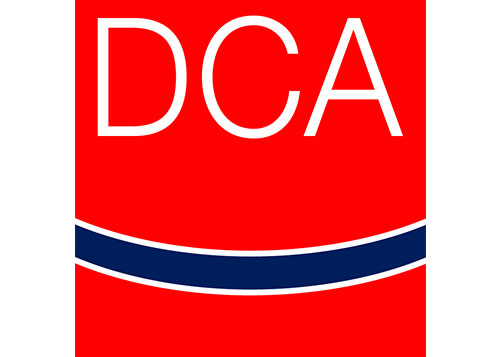 23rd Sept 2021 - Microtunnel in Massy
Last week's DCA congress in Bonn was a great knowledge sharing opportunity for Europe's HDD professionals.
During the "Subsoil parameters" workshop, led by OPTIMUM's François Gandard, DCA Vice-President Marc Schnau and Henk Kruse from Deltares, manufacturers, engineers and contractors from around the world discussed the often-complex issue of geotechnical data analysis,
as well as other subjects, such as the identification of quick clays, rock testing results and the impact a poor understanding of the bedrock can have on budgets and planning. It was great to see such participant engagement and lively debate, which enables Europe's HDD industry to progress at every level.
Thanks to everyone who took part.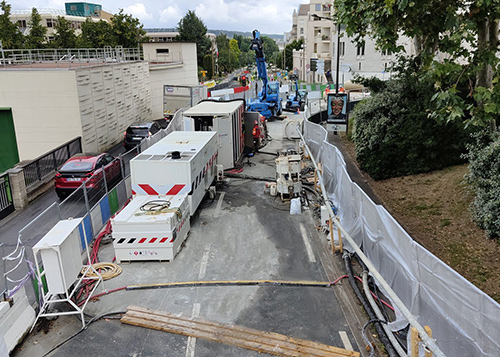 23rd Sept 2021 - Microtunnel in Massy
OPTIMUM is proud to have accompanied Eiffage yesterday during the successful completion of a 130m-long DN 800 PRV microtunnel in Massy, near Paris, as part of the sanitation network diversions being put in place by the Paris Saclay local authority. OPTIMUM accompanied Eiffage during the project development phase to establish the initial engineering hypotheses and then throughout the works phase,
to continuously monitor the tunnelling parametres and the geotechnical conditions.
This allowed any discrepancies to be identified and ensured that corrective measures were put in place straight away.
Mission accomplished : congratulations to Eiffage for the project execution and the great teamwork.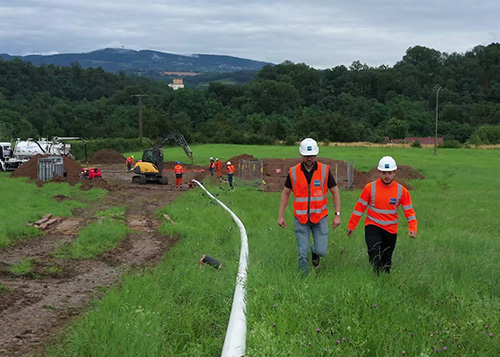 12 July 2021 – HDD in Lozanne
Despite the grey skies, OPTIMUM was delighted to accompany GRTgaz last week during the successful installation of its 575m-long DN100 pipeline in Lozanne, near Lyon.
The HDD crossing, which drilled through basalt rock and across fault lines, passed underneath housing, an equestrian centre, a road as well as a river, which will be restored to its original state. Engineered by OPTIMUM from the outset, the project would have been impossible to complete using conventional trenched techniques. Engineered by OPTIMUM from the outset, the project would have been impossible to complete using conventional trenched techniques.
OPTIMUM accompanied GRTgaz from A to Z, from the feasibility studies (G1 PGC, G2 PRO), through the soil investigations (G2 AVP), the purchasing and tender assistance (G2 DCE),
Project completed on time and on budget ; great team work throughout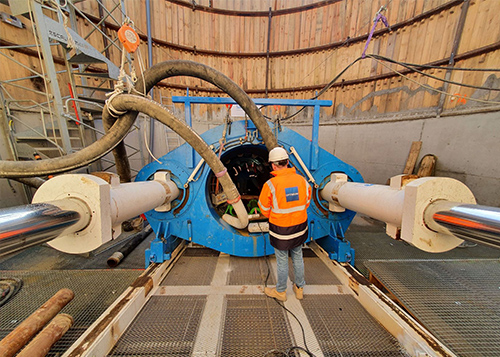 24th Jun – Milestones
Since its creation, OPTIMUM has worked on 4 continents, designed over 350 trenchless projects and successfully accompanied 70 trenchless jobsites.
Drawing on their recognised field experience, OPTIMUM engineers continue to provide invaluable support to customers, from the design to completion of their projects.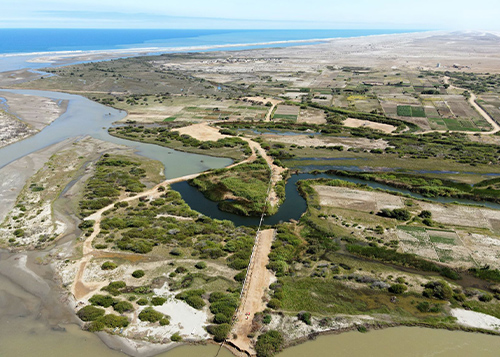 3rd Jun 2021 - Natural gas pipeline in Peru
OPTIMUM continues to grow its portfolio of international clients in the oil and gas industry with a new contract in Peru.
Acutely aware of the importance of a thorough site visit from the outset, OPTIMUM flew a trenchless specialist to Lima this week to see the context and constraints for himself.
The project, a 2000m Horizontal Directional Drilling (HDD) crossing under a vast river delta in the north of Peru, will form part of a new natural gas pipeline being installed within the framework of the country's energy transition policy.
OPTIMUM engineers will now monitor the geotechnical and geophysical investigations, draft the method statement and design the drilling profile. Given the jobsite environment and the potential for surface breakouts, specific modelling and hydrofracture analysis will also be conducted to mitigate risks and ensure smoother drilling operations.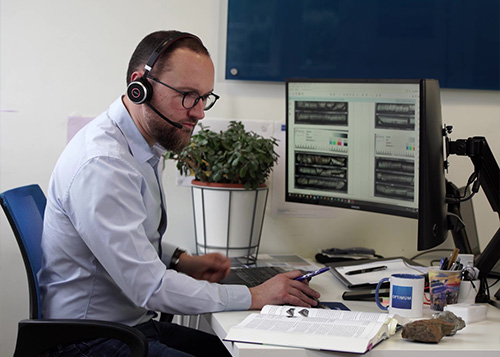 22nd Apr 2021 – Tender Support
Investing in trenchless expertise at the bidding stage not only demonstrates a contractor's commitment to and understanding of a project, but also significantly increases the likelihood of winning the tender. OPTIMUM engineers help drilling / tunnelling contractors analyse the technical dossiers in a tender package, validate geotechnical models and add value by ensuring the most appropriate trenchless technique and tools are proposed for the job. In addition, OPTIMUM will alert the contractor to potential geotechnical and / or geological risks that may otherwise go unnoticed, allowing for contingency plans to be made ahead of time, minimising downtime and, ultimately, saving money.
In recent months, OPTIMUM has helped contractors not only in France, but also in Italy and South America to develop successful bids for trenchless projects. Great return on their investment !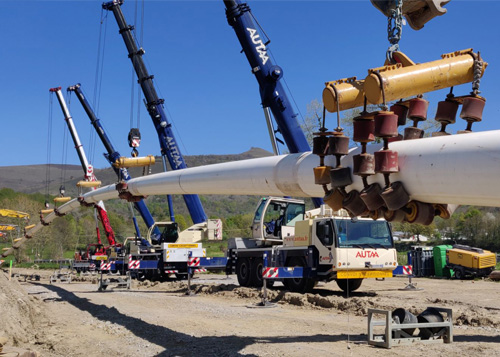 8th Apr 2021 – Trois-Villes
A beautiful sunny afternoon yesterday in the Basque country: OPTIMUM was proud to see TEREGA's DN650 gas pipeline be successfully installed under the river Saison, near Trois-Villes.
OPTIMUM accompanied TEREGA throughout the drilling works in complex geological conditions, which called for several technical modifications and dedication in abundance.
Congratulations to the teams from HDI and SPIECAPAG for this great achievement.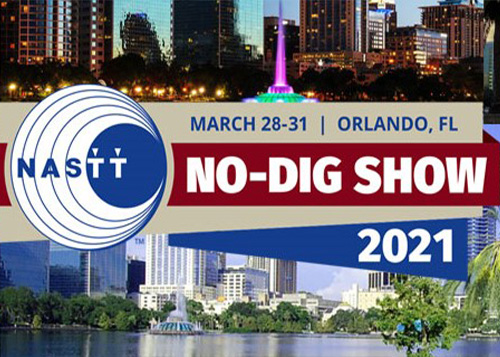 31st Mar 2021 – No-Dig 2021
The 2021 NASTT No-Dig Show was a bit different. What remained unchanged was the breadth and quality of knowledge sharing. OPTIMUM engineers were present remotely this year, accessing over 150 conferences on topics as varied as :
the design challenges in curved microtunnel shore landings
the mathematics of pilot hole drilling
matrix development for quality assurance, inspection, and risk management during construction
hydraulic fracture risks in sedimentary rock formations
HDD river crossings in seismic activity zones
As the world's largest trenchless technology trade fair and conference, the No-Dig Show provides a wealth of technical insight. By participating every year, OPTIMUM ensures its engineers can support clients by integrating best practise and key analysis at every stage of their trenchless projects.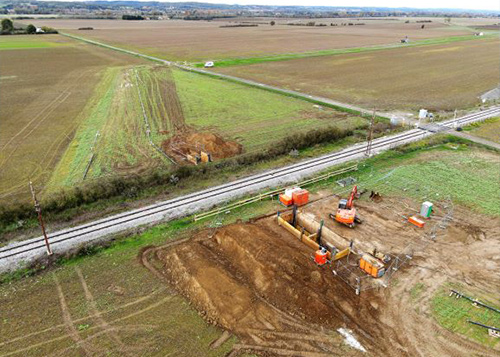 18th Feb 2021 - Capens Pamier gas pipeline
Replacing and rerouting a 50km long gas pipeline and crossing multiple train lines, rivers and motorways in the process is a project that needs expert intervention at every stage.
When opinion was divided in initial road and rail studies, TEREGA commissioned OPTIMUM to determine the most appropriate technique for several trenchless sections of the project. Given the coarse alluvium typical of southwestern France, OPTIMUM advised using a DTH hammer rather than a microtunnel, reducing the pipe dimensions from a DN1600 to a DN450 and reducing the depth of the works. OPTIMUM then reworked the project engineering accordingly, ensuring risks were minimised, especially those inherent with railway crossings. Reassured by OPTIMUM's approach and expertise
TEREGA then also commissioned them to supervise onsite operations for 6 crossings (2 x rail, 2 x river, 2 x road) ; just 12 months later, these crossings are now complete.
Finding the best solution for every project, without any preconceptions, is how OPTIMUM were able to help TEREGA reduce the project timeframe significantly and divide the initial drilling cost estimate by 4.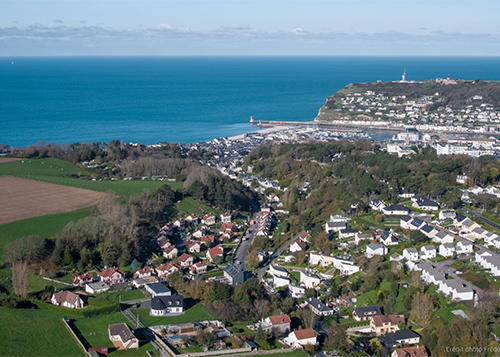 5th Feb 2021 - France's 3rd offshore wind farm
After Saint Nazaire and Saint Brieuc, Fécamp will soon be France's third offshore wind farm. To this end, RTE is currently building a dual electric link ; an 18km maritime connection going underground for a further 43km onland. By 2023, the two 225 kV lines will connect the Fécamp wind farm to the Pont-Sept substation, near Le Havre on France's north coast.
In 2019, RTE had already commissioned OPTIMUM to project manage the preparation and monitoring of a railway crossing further along the drill path. A year later, OPTIMUM continues to supervise operations, this time for the whole underground link. Together with axe ingénierie, the two companies supervise the land-side works in their entirety for RTE: OPTIMUM for the trenchless sections and axe ingénierie for the conventional pipe laying.
In this way, all RTE's needs can be met for the supervision of the underground power line construction.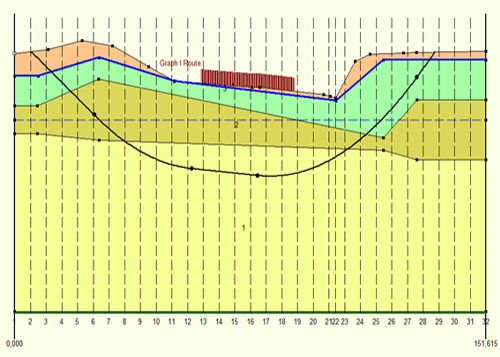 1st Dec 2020 - Trenchless calculations unique in France
OPTIMUM's unique trenchless calculation capacity proved invaluable on a recent HDD project for RTE under the Nantes ring road, near FC Nantes' Beaujoire stadium.
RTE wanted to reduce the drill path depth of planned HDD crossings under the ring road to limit the project's impact on nearby municipal sports facilities. Since this would increase the risk not only of drilling fluid break outs on the ring road but also settlement levels, RTE wanted to carefully evaluate the changes before validating the new profile.
OPTIMUM, which had already carried out G1 PGC and G2 PRO studies for the two drills, reworked the geotechnical model and simulated soil resistance / drilling pressure whilst also evaluating the surface settlement by finite elements, a combination that only OPTIMUM offers in France.
The calculations confirmed the feasibility of the drill path change ; RTE was able to go ahead, entrusting drilling to Groupe Gendry, which completed the project without any impact to the ring road ; mission accomplished.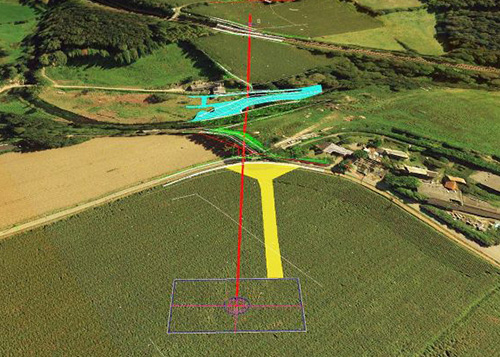 2nd Nov 2020 - Landivisiau microtunnel
Boring a 530 metre-long, 2.15 metre-wide microtunnel in one of the hardest and most abrasive rocks calls for the highest levels of vigilance. Add to that a 26-metre height difference between the entry and exit points as well as a crossing a river and the Paris – Brest railway lines.
The extreme complexity of the gas pipe project in Brittany called for expert advice and hands-on assistance both prior to and during microtunnelling operations. Contracted by SADE TS, OPTIMUM engineers reworked the geotechnical aspects of the project to ensure complete alignment with geological conditions onsite. Daily monitoring of the boring operations allowed for progress rates to be maintained and safeguarded against technical risks such as tunnel narrowing, fluid dispersion or excessive wear on the cutting tools.
The microtunnel is now complete, excellent teamwork throughout.
22nd October 2020 - Black Sea landfall
OPTIMUM continues to expand its international reach with its latest mission in Romania. The 1500m long horizontal curve landfall project, which used an anchored lay barge during pull-back, will connect two natural gas fields 120kms out in the Black Sea to the inland gas treatment plant .
OPTIMUM's engineers were present in Romania for over 6 weeks and supervised HDD operations onsite 24/7 given the geotechnical complexities of the project, now one of the longest landfalls ever drilled in soft soils (sand, silt and clay).
OPTIMUM has been involved in this project since 2018 at the request of the contractor, Black Sea Oil & Gas, providing technical expertise to support the engineering and project preparation teams.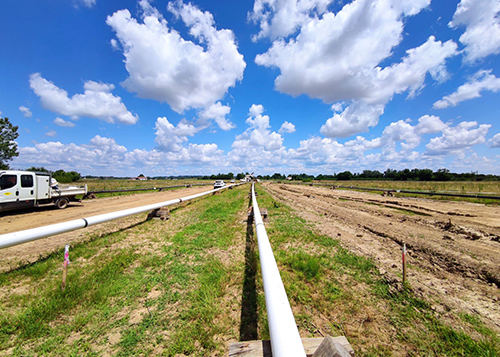 8th October 2020 - From study to drilling completion
Echirolles : a 65 metre-long urban pipe ramming project under the Grenoble ring road
Brioude : a 140 metre-long HDD crossing to bypass new motorway construction
Albias : 3 parallel 310 metre-long HDD crossings under the rural Aveyron river
Three projects, all in complex geotechnical and / or geological environments, in which OPTIMUM teams accompanied their clients from the very beginning to the very end of their trenchless projects. These recently completed, diverse gas pipeline projects all highlight the significant advantages in having OPTIMUM's specialist engineers at the contracting authority's side to analyse, develop and monitor trenchless projects from their inception (feasibility studies) through to works completion (onsite drilling supervision). A perfect understanding of the project history as well as all relevant geotechnical constraints allow for decisions to be taken quickly and for technical advice and monitoring to be more pertinent, minimizing risks and optimising operations.
Three technical challenges, three projects successes.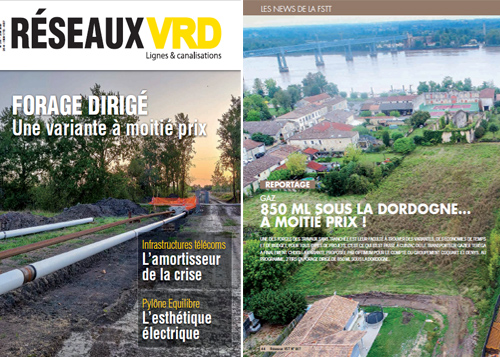 Understand the full scope of a project and propose relevant solutions at every step of the way ; theexhaustive article published in the latest edition of Réseaux VRD underlines the intelligence of OPTIMUM's involvement in the Dordogne river crossing.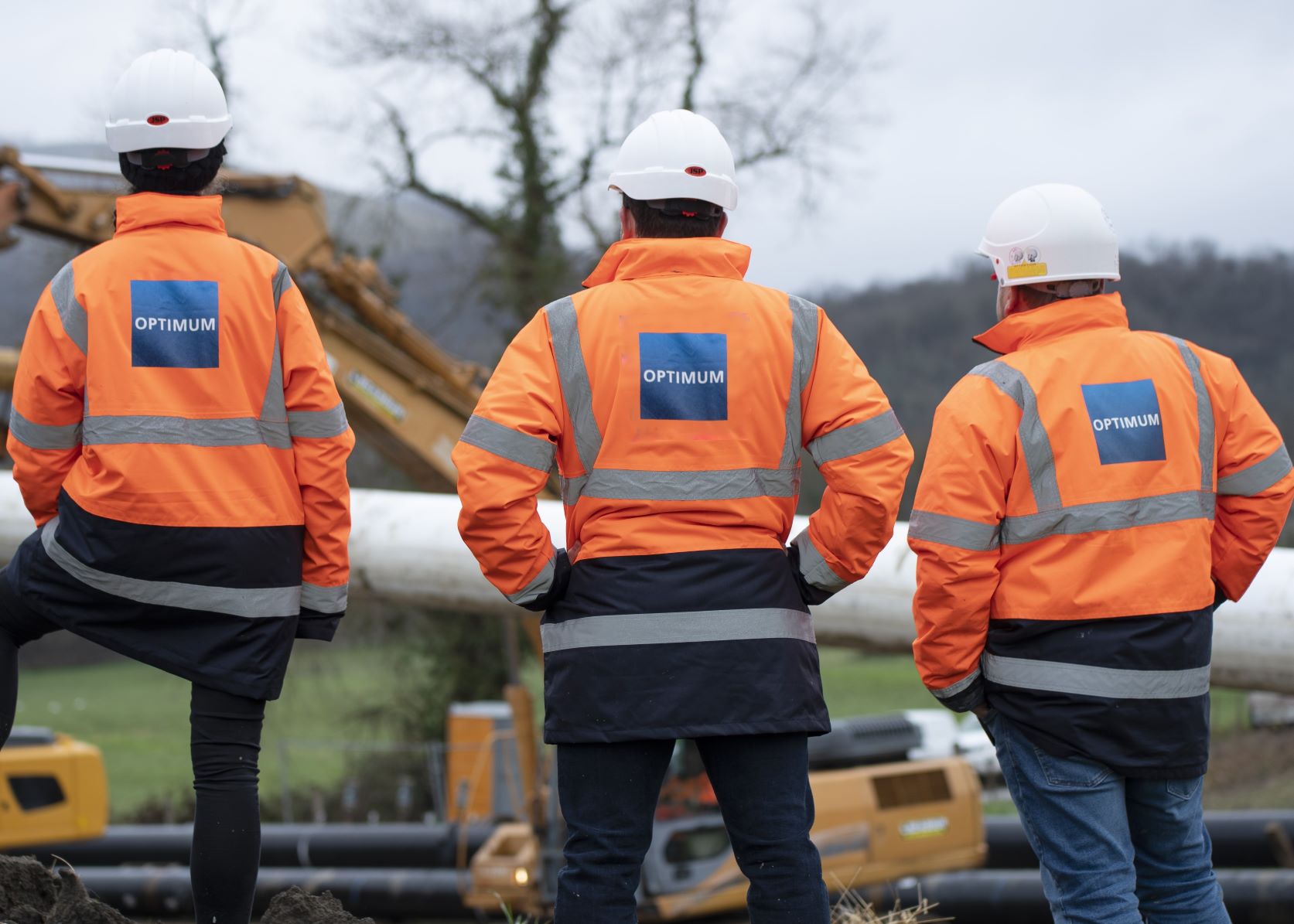 22nd July 2020 - 250 projects and counting !
In just 30 months, OPTIMUM has conceived over 250 trenchless projects, examining and supervising 51 000 linear metres of crossings as well as 15 km of landfalls. Its growing team of specialist engineers reinforces the pertinence of each assignment by optimising operations, cutting drilling costs and timeframes, minimising geotechnical risks and simplifying bore paths.
Despite the current climate, OPTIMUM continues to support its customers on trenchless jobsites throughout France, and beyond, further consolidating its position as THE trenchless engineering expert in the French market. Here's to the next 250 !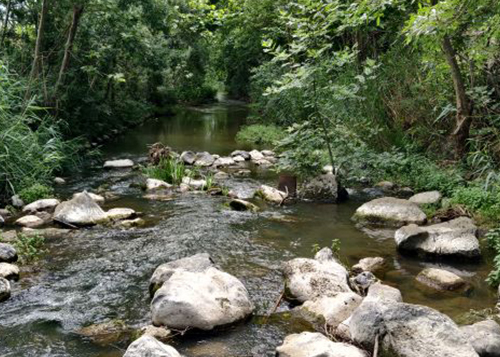 22th June 2020 - BRL : Aqua Domitia project
The second DN560 pipeline allowing the BRL - Aqua Domitia project to cross the River Thongue is now installed. This double 170 metre HDD crossing was drilled by Coquart & Fils, who commissioned OPTIMUM to provide geotechnical monitoring (G3 mission). As such, the engineers provided expertise at every stage to optimise the drilling process :
During site preparation : geotechnical dossier analysis and definition of a programme of additional investigations to finalise engineering plans
During drilling of the first pilot hole : deepening the HDD profile following observation of a geological deviation causing drilling fluid losses
During boring : optimization of the boring sequence
Effective teamwork, based on mutual trust, once again led to a great result.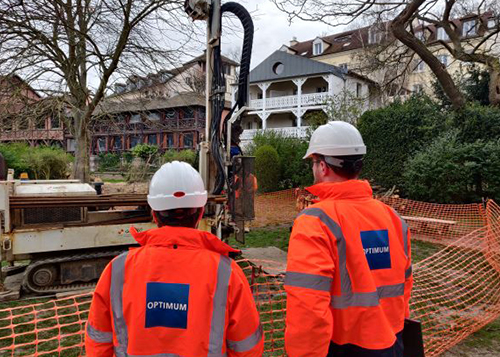 18th June 2020 - Technical emergency, OPTIMUM solution
BIR, on behalf of Orange, has successfully pulled a DN500 HDPE tube containing 15 fibre optic lines. The technical urgency of the project arose at the end of January 2020 as the need to divert a sensitive network installed in a precarious dam became apparent.
OPTIMUM mobilized teams to deliver a complete engineering study, from determining the bore path to supervising the geotechnical surveys and sizing the final tunnelling works, all in a record 4 months and during the Coronavirus crisis.
Despite the urban location and the considerable environmental challenges, the team completed this fully curved, 185-metre-long HDD crossing, on time and on budget.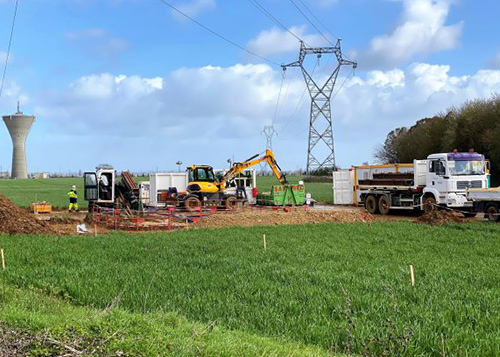 12th May 2020 - France / UK interconnection
As part of RTE's French-UK interconnection project, the dual trenchless crossing in Frénouville is now finished. Both of the 140 metre-long, 10 metre-deep HDD crossings, passing under one of Normandy's busiest rail routes, required precision control at every stage.
OPTIMUM assigned specialist engineers from the document validation phase through to works completion, ensuring round the clock monitoring on site, day and night.
Finalised in April 2020, the project was not only completed on time and in compliance with strict SNCF requirements, but also whilst preserving the health and safety of the dedicated engineers who worked despite the Covid-19 pandemic.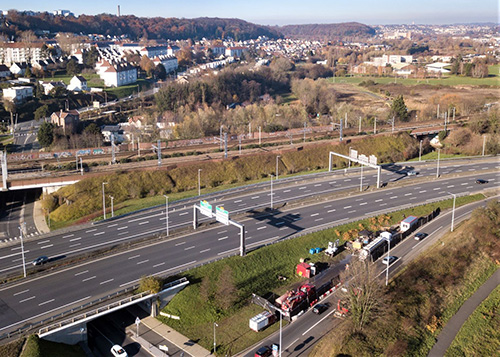 5th February 2020 - Rail crossing in Normandy
Drilling 20m below the busiest railway in Normandy calls for the highest levels of vigilance and expertise. By accompanying RTE's trenchless project in Harfleur on a daily basis and assisting drilling operations around the clock, OPTIMUM ensured the railway network was preserved throughout. The enhanced security mechanisms put in place (including continuous monitoring of the rail platform, topographic controls before, during and after drilling), coupled with the expertise of the dedicated project engineers enabled this curved,260m long HDD crossing to be drilled on time, despite adverse geotechnical conditions. The crossing is now complete; a great challenge, successfully met.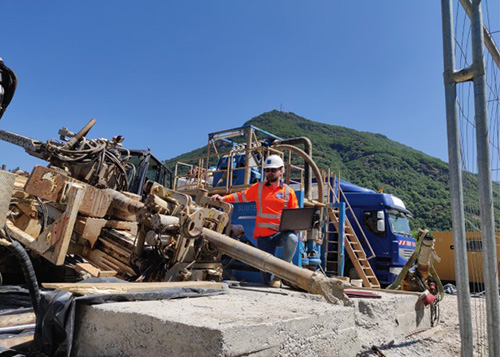 20th December 2019 - G3 Missions
Contracting authorities are increasingly aware of the importance of geotechnical issues in trenchless projects, leading to an more G3 Missions.
As such, OPTIMUM is expanding its offer to assist drilling contractors in controlling geotechnical risks and identifying possible deviations during drilling operations. Its most recent G3 contract will contribute to the extension of the hydraulic network in the Languedoc, south-west France in early 2020.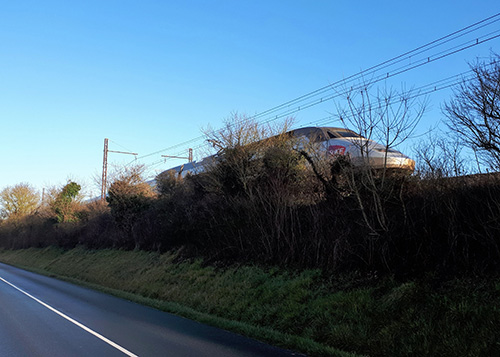 5th November 2019 - 30th SNCF railway crossing
This week OPTIMUM will finalize its 30th railway crossing project. These must not only integrate a "classic" trenchless study but also adhere to the strict SNCF criteria necessary for drilling authorization. They enable the complexity and the multiple risks inherent in working under railway lines to be managed proactively and effectively.
Subsequently, OPTIMUM is also able to monitor and control the drilling operations, in line with the SNCF stipulation that this be delegated by the contracting authority to an independent, specialist project manager.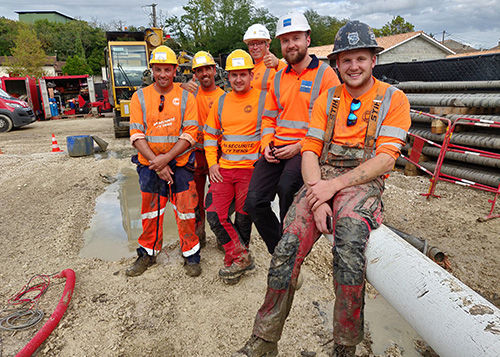 11th Oct 2019 – Dual pipeline crossing at Cubzac
The dual gas pipeline crossing of the Dordogne at Cubzac is complete. By reworking the project engineering and assisting technical operations on a daily basis, OPTIMUM managed to halve both the drilling costs and the project timeframe.
We are proud to have been able to support Coquart & Fils in this great achievement, now its longest ever directional drilling project (2x850m). Great teamwork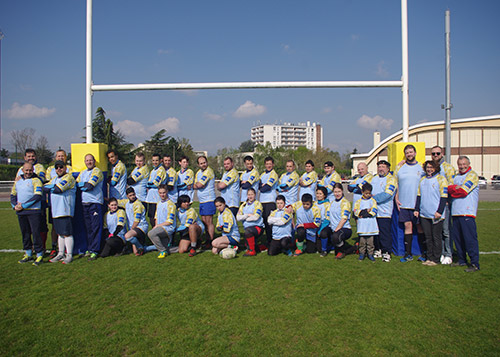 3rd Oct 2019 – Ovale & Sens sponsorship
Sponsorship choices speak volumes about a company's ethics. As the Rugby World Cup continues in Japan, OPTIMUM is delighted to announce its sponsorship of Ovale & Sens, a rugby club near Paris open to teenagers and adults, men and women alike, with mental health issues.
Runners up in the French adapted rugby championship in 2017-2018 and winner of the Ile-de-France shield during the 2018-2019 season, the team never ceases to amaze us. Bravo !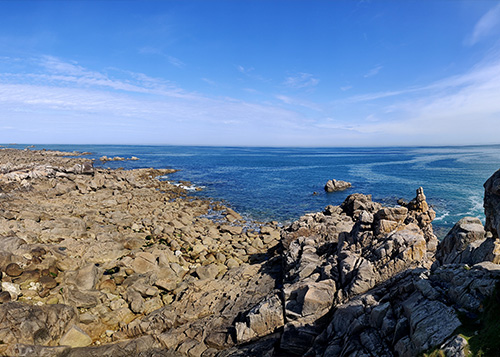 17th August 2019 - Landfall expertise expands overseas
OPTIMUM broadens its international scope with an AMO contract in Portugal. The landfall project, with over 600 m of horizontal directional drilling (HDD), will link an offshore wind farm to the Portuguese coast.
This mission further highlights OPTIMUM's landfall expertise after other missions in France, Italy, Romania and the Reunion Island.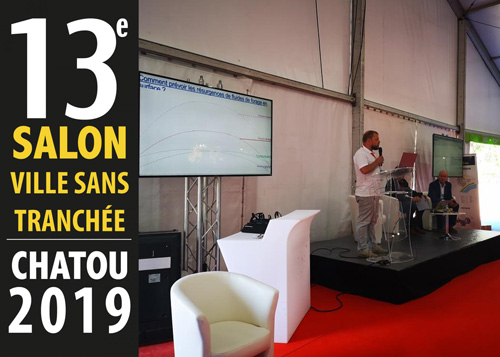 19th June 2019 - OPTIMUM at VST 2019
How to predict the resurgence of drilling fluids ?
François Gandard discusses the issue at the "HDD Forum" at the VST trade fair in Chatou, France from 18 - 19 June 2019. The crossing is now complete; a great challenge, successfully met.